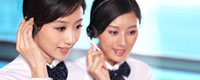 Name: Mr. Frank
Tel: +86-631-3895559
Mobile: +86 13793390131
E-mail: info@abokem.com
Skype: frank.dang1
WeChat: frank9922
whatsapp: +86 13793390131
QQ: 1619729593





Product name : Copper Corrosion Inhibitor-Halogen Resistant Azole CoAnti-HRA

Product No. : 20171220553
Details:
CoAnti-HRA




Copper Corrosion Inhibitor-Halogen Resistant Azole




Description
CoAnti-HRA an unique azole chemistry used for the inhibition of copper and copper alloy heat exchanger surfaces. This material is used to establish a protective corrosion inhibitor film on the metal surface. CoAnti-HRA is unique because it is compatible with oxidizing biocides. This makes it a good choice for cooling systems where chlorine and/or bromine are used to control microbiological activity. Indirectly, it also reduces the corrosion of steel surfaces within a given cooling system. This occurs if the steel corrosion is a result of a galvanic reaction between the steel surface and the products of copper corrosion which have been deposited on the steel.

Technical Specification
Appearance: Clear to light yellow liquid
Odor: Slight
Density, g/cm3 at 21℃: 1.1~1.2
pH: 12~13
Viscosity (cps 21℃): 13 cps
Solubility: Completely soluble in water

Characteristic
Inhibits corrosion of copper, admiralty brass, and other copper alloys
Product is compatible with oxidizing biocides
Eliminates halogenated azole odor

Usage
Proper treatment levels of CoAnti-HRA depends on many factors, such as corrosion load and conditions particular to a given installation.

CoAnti-HRA should be fed at a point in the cooling water where turbulence, flow pattern, etc. and it will insure good mixing of the product with the water to be treated. CoAnti-HRA can be fed from the shipping container directly without any dilution.

Stainless steel, polypropylene, polyethylene, PVC, teflon, and hypalon tanks, pumps and piping are compatible with this product.

Storage and Packing
Protect CoAnti-HRA from freezing. If frozen during shipping or storage, warm and mix completely to ensure homogeneity. It can be packed by 25kg drum, 200liters drum and IBC tank or customized.
Shelf life will be 2years.

K-words:


Copper Corrosion Inhibitor-Halogen Resistant Azole CoAnti-HRA, Halogen Resistant Azole, HRA

If you want to get the
TDS
,
MSDS
,
COA
,
Price
,
Leading time
,
Packing
etc. of this Product, Plsease contact us, you will get instant response.
Email:
info@abokem.com; abokem@hotmail.com
WeChat:
frank9922
Skype:
frank.dang1
Whatsapp:
+86 13793390131