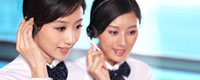 Name: Mr. Frank
Tel: +86-631-3895559
Mobile: +86 13793390131
E-mail: info@abokem.com
Skype: frank.dang1
WeChat: frank9922
whatsapp: +86 13793390131
QQ: 1619729593





Product name : Cooling Water Corrosion Inhibitor CoAnti-4100

Product No. : 20161218223425
Details:



CoAnti-4100




Cooling Water System Corrosion Inhibitor



Description
CoAnti-4100 is a specially formulated molybdate/nitrite-based corrosion inhibitor designed for use in closed cooling systems. It is effective in controlling corrosion over a wide range of conditions. CoAnti-4100 has been successfully applied in systems using demineralized, softened, and hard water make-up.It is also proven to be effective in chilled water systems and in pressurized hot water systems. When applied according to AOBKEM recommendations, this product can provide corrosion control results approaching the results obtained by using chromate, but without chromate's environmental hazard.

Technical Specification
Appearance: Light yellow liquid
Odor: Slight
Density, g/cm3 at 21℃: 1.1~1.2
pH: 12~13
Viscosity (cps 21℃): 6 cps
Solubility: Completely soluble in water
Freeze Point : -8℃

Characteristic
Effective for steel, copper and mixed metallurgy systems
Stable and effective at high temperature and heat fluxes
Compatible with glycol and alcohol antifreeze solutions

Usage
Typically the closed cooling water should be maintained at a high pH with this inhibitor. Proper treatment levels for CoAnti-4100 depends on several factors such as the corrosion potential and conditions particular to a given installation.

Storage and Packing
Store CoAnti-4100 at cool and dry place under moderate temperatures and protect from freezing. If this product is frozen during shipment or storage, slight mixing may be required to ensure homogeneity. 25kg per drum for packing or packing can be customized.
Shelf life will be 2years.

If you want to get the
TDS
,
MSDS
,
COA
,
Price
,
Leading time
,
Packing
etc. of this Product, Plsease contact us, you will get instant response.
Email:
info@abokem.com; abokem@hotmail.com
WeChat:
frank9922
Skype:
frank.dang1
Whatsapp:
+86 13793390131