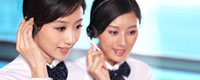 Name: Mr. Frank
Tel: +86-631-3895559
Mobile: +86 13793390131
E-mail: info@abokem.com
Skype: frank.dang1
WeChat: frank9922
whatsapp: +86 13793390131
QQ: 1619729593





Product name : RO system flocculant RoFloc-150

Product No. : 20161211193537
Details:



RoFloc-150




Reverse Osmosis Flocculant



Description
RoFloc-150 is designed to improve significantly the efficiency of colloidal solids removal by multimedia filters. This formulation is a high molecular weight organic coagulant which is to be injected directly ahead of the multi-media filters.

Technical Specification
Appearance: clearless liquid
Density, g/cm3 at 21℃: 1.01-1.05
pH: 6.3-7.0
Viscosity (cps 21℃): 120cps
Solubility: Completely soluble in water
Freeze Point : -3℃

Characteristic
Certified for use in producing potable water.
Compatible with most different types of antiscalant/antifoulants.
Compatible with and proven not to foul thin filmcomposite membranes.
Optimum dosages are determined by a water sample test report.
Increases resistance to filter breakthorugh.
Minimizes backwash waste.
Usage
RoFloc-150 must be added prior to the multimedia filters.
Incompatible antiscalants/antifoulants and coagulants may congeal and cause severe membrane fouling. RoFloc-150 should be used in conjunction with RoAnti-150 and RoAnti- 220. These products were specifically designed to be used in combination.

Dosage
Typical dosage range is between 2 and 10 ppm. A sample dosage calculation for general purposes would be as our advice. Over and under-dosing may decrease filtration efficiency.

Storage
To be stored in cool and ventilated warehouse, avoid direct exposure in the sunshine.

Packing and Useful-life
RoFloc-150 is a liquid material, available in a wide variety of customized containers and delivery methods.

Useful-life: 2 years

Precaution
A copy of MSDS is available once required.