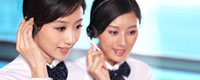 Name: Mr. Frank
Tel: +86-631-3895559
Mobile: +86 13793390131
E-mail: info@abokem.com
Skype: frank.dang1
WeChat: frank9922
whatsapp: +86 13793390131
QQ: 1619729593





Product name : RO Alkaline Antiscalant RoAnti-191

Product No. : 20161230133519
Details:
RoAnti-191




RO Alkaline Antiscalant





Description
RoAnti-191 is one of the principal antiscalants used by the membrane industry. It is as an antiscalant and antifoulant in membrane systems using a wide selection of brackish, high salinity, process and effluent feed-waters.

Technical Specification
Appearance: Clear to light yellow liquid
Odor: Slight ammonia smell
Density, g/cm3 at 21℃: 1.3~1.4
pH: 10~11
Solubility: Completely soluble in water

Characteristic
No adverse effects with repeated use.
Highly effective antiscalant across a broad spectrum of waters.
Minimizes scaling and reduces the frequency of membrane cleaning.
Effectively controls scales including CaCO3, CaSO4, SrSO4, BaSO4, CaF2, SiO2, Fe2O3, etc.
Will reduce, and usually replace the need for acid addition.
Low dose rate gives a cost effective application.
Compatible with all membrane types.
Effective iron sequestrant.
Enables systems to work at enhanced rates of recovery.

Usage
For maximum effectiveness, RoAnti-191 should be added prior to the static mixer or cartridge filter housing. The dosing point and dosage should be decided by our engineer for some special system. Typically, general dosage is 2-5ppm, accurate dosage should be depend on many factors like as salinity, temperature, recovery rate, membrane material and quality etc.

Storage and Packing
Store RoAnti-191 at cool and dry place under moderate temperatures and protect from freezing. If this product is frozen during shipment or storage, slight mixing may be required to ensure homogeneity. 25kg per drum for packing or packing can be customized.Shelf life will be 2years.
K-Words



RO alkaline antiscalant, Permatreat PC191 equivalent, Nalco PC191 substitutes