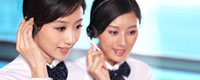 Name: Mr. Frank
Tel: +86-631-3895559
Mobile: +86 13793390131
E-mail: info@abokem.com
Skype: frank.dang1
WeChat: frank9922
whatsapp: +86 13793390131
QQ: 1619729593





Product name : HEDP-4Na Granule Cas No. 3794-83-0

Product No. : 2017627153435
Details:
HEDP-4Na Granule Cas No. 3794-83-0
Tetra Sodium of 1-Hydroxy Ethylidene-1,1-Diphosphonic Acid HEDP•Na4Granule
HEDP•Na4 is even granule with excellent fluidity, low dust content, low hygroscopicity and easy handling properties.

HEDP•Na4 is a powerful chelating agent. As a household cleaning agent and industrial cleaner auxiliary, HEDP•Na4 can stabilize metal ions in water and enhance effect of decontamination under high pH washing condition.

HEDP•Na4 can be used in cosmetics and personal care to restrain rancidity and discoloration.

HEDP•Na4 can be used as slow-release scale corrosion inhibitor after being compressed into tablets with other auxiliaries. HEDP•Na4 works as oxygen bleaching stabilizer in dyeing and paper making industry.
If you want to get the
TDS
,
MSDS
,
COA
,
Price
,
Leading time
,
Packing
etc. of this Product, Plsease contact us, you will get instant response.
Email:
info@abokem.com; abokem@hotmail.com
WeChat:
frank9922
Skype:
frank.dang1
Whatsapp:
+86 13793390131