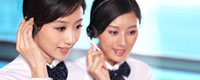 Name: Mr. Frank
Tel: +86-631-3895559
Mobile: +86 13793390131
E-mail: info@abokem.com
Skype: frank.dang1
WeChat: frank9922
whatsapp: +86 13793390131
QQ: 1619729593





Product name : DTPMPA CAS No. 15827-60-8

Product No. : 2017626112632
Details:
DTPMPA CAS No. 15827-60-8
Diethylene Triamine Penta (Methylene Phosphonic Acid) (DTPMPA)
DTPMPA is innocuous, easy to be dissolved in acid solution. DTPMPA has excellent scale and corrosion inhibition and good thermal tolerance ability. DTPMPA can inhibit the scale formation of carbonate, sulfate and phosphate. On situation of alkali environment and high temperature (above 210℃) DTPMPA has better scale and corrosion inhibition effect than other organophosphines.

If you want to get the
TDS
,
MSDS
,
COA
,
Price
,
Leading time
,
Packing
etc. of this Product, Plsease contact us, you will get instant response.
Email:
info@abokem.com; abokem@hotmail.com
WeChat:
frank9922
Skype:
frank.dang1
Whatsapp:
+86 13793390131