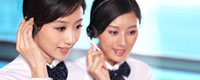 Name: Mr. Frank
Tel: +86-631-3895559
Mobile: +86 13793390131
E-mail: info@abokem.com
Skype: frank.dang1
WeChat: frank9922
whatsapp: +86 13793390131
QQ: 1619729593





Product name : HEDP-Na Cas No. 29329-71-3

Product No. : 2017627154230
Details:
HEDP-Na Cas No. 29329-71-3
Monosodium of 1-Hydroxy Ethylidene-1,1-Diphosphonic Acid (HEDP•Na)
HEDP•Na is an organophosphonic acid corrosion inhibitor, it can chelate with Fe, Cu, and Zn ions.HEDP•Na can dissolve the oxidized materials, it has good scale and corrosion inhibition effects even under 250℃, it is stable under high pH value, not easy to be hydrolyzed, not easy to be decomposed under normal light and heat condition, its acid/alkaline and chloride oxidation tolerance are better than that of other organophosph-onic acids. HEDP•Na can form six-ring chelating compounds with metal ions in water system, Ca2+ in particular. HEDP•Na has good scale inhibition effects and obvious dissolution threshold effects. When used with other Water Treatment Chemicals, the synergistic effects is better.

HEDP•Na is suitable for acidic scale inhibitor and detergent, can be used for metal surface treatment. .

If you want to get the
TDS
,
MSDS
,
COA
,
Price
,
Leading time
,
Packing
etc. of this Product, Plsease contact us, you will get instant response.
Email:
info@abokem.com; abokem@hotmail.com
WeChat:
frank9922
Skype:
frank.dang1
Whatsapp:
+86 13793390131