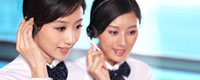 Name: Mr. Frank
Tel: +86-631-3895559
Mobile: +86 13793390131
E-mail: info@abokem.com
Skype: frank.dang1
WeChat: frank9922
whatsapp: +86 13793390131
QQ: 1619729593





Product name : EDTMP-5Na Cas No. 7651-99-2

Product No. : 2017627152410
Details:
EDTMP-5Na Cas No. 7651-99-2
Pentasodium Salt of Ethylene Diamine Tetra (Methylene Phosphonic Acid) (EDTMP•Na5)
EDTMP•Na5 is a neutral product. It is nitrogenous organic polyphosphonic acid, which is a part of cathodic corrosion inhibitor. EDTMP•Na5 can be fully dissolved in water, innocuous and none pollution to environment, has good chemical stability and thermal tolerance. EDTMP•Na5 has good scale inhibition property under temperature 200℃. EDTMP•Na5 can dissociate into 8 positive-negative ions, thus can chelate with more than two metal ions to form more than two polymer reticulation complex, the complex can be quickly dissolved in water to destroy the normal crystallization of calcium scale.EDTMP•Na5 shows better scale inhibition effects to calcium sulfate and barium sulfate.

EDTMP•Na5 can be used as scale and corrosion inhibitor for circulating water and boiler water system, chelating agent in non-cyanide electroplating, water-softening agent in dyeing industry, etc.

If you want to get the
TDS
,
MSDS
,
COA
,
Price
,
Leading time
,
Packing
etc. of this Product, Plsease contact us, you will get instant response.
Email:
info@abokem.com; abokem@hotmail.com
WeChat:
frank9922
Skype:
frank.dang1
Whatsapp:
+86 13793390131